We are just on the red eye home from Calgary and in common style there is no sleep for me on the airplane. I know its going to be a tough day with the kidlets at home and in hindsight i may not have picked this flight. However, we are here now, and instead of me being completely irritated and angry that i can't sleep i thought i would try to use this time to do a little blogging on our trip.
I know that you already saw where we made the trip super affordable (aka close to free) in our blog post here, but now I want to share a little bit more about our Rocky Mountain Adventures.
After much research I knew that it would be more affordable for us to stay in the Canmore area, and since I didn't spend a LOT of time there when I lived in Banff it seemed like a great place to explore.
I had purchased a Fodor's book for Alex for Christmas on the area, but to be honest, they really aren't that useful to me anymore. I do all of my research online and from talking to other people that I know, we took the book all the way to Banff and left it at the Chalet where we stayed…so I wouldn't say it was a great investment. I know I saw people travelling around with them, but where we pre planned mostly everything in terms of accommodations, and wanted to eat out as little as possible (this plan backfired a little) then we found these two tools MUCH more beneficial.
1. The ALL TRAILS app. Its a FREE app that helps you to find hiking trails wherever you are, or where you are going. It has full trail reviews, can give you directions to the trail head and seems to have a great base of users that will give feedback really quickly so you can often find out what the conditions are like in the areas that you are.
2. A Specific interest book. For this trip I had "Easy Walks & Hikes in the Canadian Rockies" Its a book that I got when I moved to Banff and I would take different walks/hikes and print photos of me there with my friends, cousin, mom when she visited etc. There are pictures of Alex and I in there from when we visited Banff the year before we got married. Though we explored more than just walks and easy hiked on this trip it was a great tool for checking out a little spot to get out and stretch our legs driving between destinations etc. When we went to Hawaii we liked "The Big Island Revealed" even though the locals didn't like when people used them… they were good resources to have when out and about.
We split our trip into three sections. Canmore. Banff and Golden BC. Actually we didn't split it. Its just kind of how I'm going to split it up here.

Canmore had way more to offer than we expected, when I lived in Banff 12 years ago Canmore wasn't nearly as big as it is now. We didn't enjoy just walking around the town of Canmore as much as we did in Banff (and the nostalgia probably had a lot to do with that) but none the less it held a lot of beautiful gems.
The day we arrived we wanted to get out a little bit and stay active enough to keep us from falling asleep super early (we hadn't slept at ALL the night before, poor Finn was up all night with a Kidney attack….one that left us on the phone to cancel our flight with only ten minutes before we would have to leave when he finally fell asleep. That was NOT an easy choice. Actually one of the toughest parenting choices we have ever faced!)
We decided to do Grassi Lakes trail. It has two options. Easy and "more difficult" the more difficult route is the one that we took because in general we have found that that easy route almost never has the better route. This one was pretty easy until the last inclines to the waterfall which were pretty straight up. It was a pretty busy hike on a beautiful Saturday afternoon, but it was pretty and we were glad to be out.
We grabbed some groceries, made nachos and ate them on the patio (which has an amazing view!!) and headed to bed around 8pm. All in all pretty impressive given the lack of sleep the night before and the time change!



The next day we decided to ease into things and headed back to one of my favourites from when I lived in Banff which was Johnston Canyon. I love waterfalls and the movement of water and this one has some pretty easy access, we got to the trail head around 7:30am before many others (there may have been two or three other cars) and we moved pretty well for getting used to the altitude. Its crazy what a difference that can make. We met a nice guy on the trail who asked after the upper falls if we were going to continue to the Ink Pots. I had never been before, it was another 10km or so, but we thought….its only 9am, we may as well. It was a lot more elevation gain than I expected but the end of the trail opens up to a huge meadow in the bow valley, where the Bow River runs through. Well worth the walk!
Then we met Alex's friend (and I think now my friend too:) Tisha for lunch at a place called Crazy Weed. If she hadn't recommended it the name probably would have turned me off. I am not up on my cannabis provinces and whatnot but I think I would have just skipped it to avoid any awkward mistakes! Tisha had driven to lunch with us from Calgary which was so super sweet. I had a tasty curry coconut sweet potato soup, and Alex and Tish shared the calamari. Alex and I both tried the Bison burger (which to be honest, was tasty, but re-visited us both on our hike later that afternoon) and Tish had the Thai Chicken Salad (which looked a lot like a freshii bowl to me) We sat outside on the patio, she hooked us up with some more suggestions for hikes and things to do and then we parted ways with a plan to meet up again before we left.
We drove back to the Banff Gate Mountain Inn and I fell asleep HARD late afternoon. We decided to make it canyon day and went to Grotto Canyon. It was listed in my easy walks and hikes book but wasn't one that I had ever done. And for the first KM or so I was thinking it would go down as one of the worst hikes I had sent us on. Its starts out on a gravel trail, next to a big mineral plant, and you can hear the trucks on the highway. It's exposed and relatively boing to look at. We almost turned around, but I thought that it had to get better, seeing as they have it in the book and the pictures look pretty interesting. As we continued on it did become more and more interesting, a little at a time. I learned the term baby heads (I really thought Alex was making it up until I heard someone else use the term to refer to small rocks that you had to walk on…roughly the size of babies heads!!!) and for the walking on baby heads and trying to go up slippery rocks to check out a waterfall i would probably recommend hiking boots even though the beginning of the trail doesn't make you feel like you will need them at all.
Another early night. since the internet was awful and I was tired and we had a big day planned for the next day.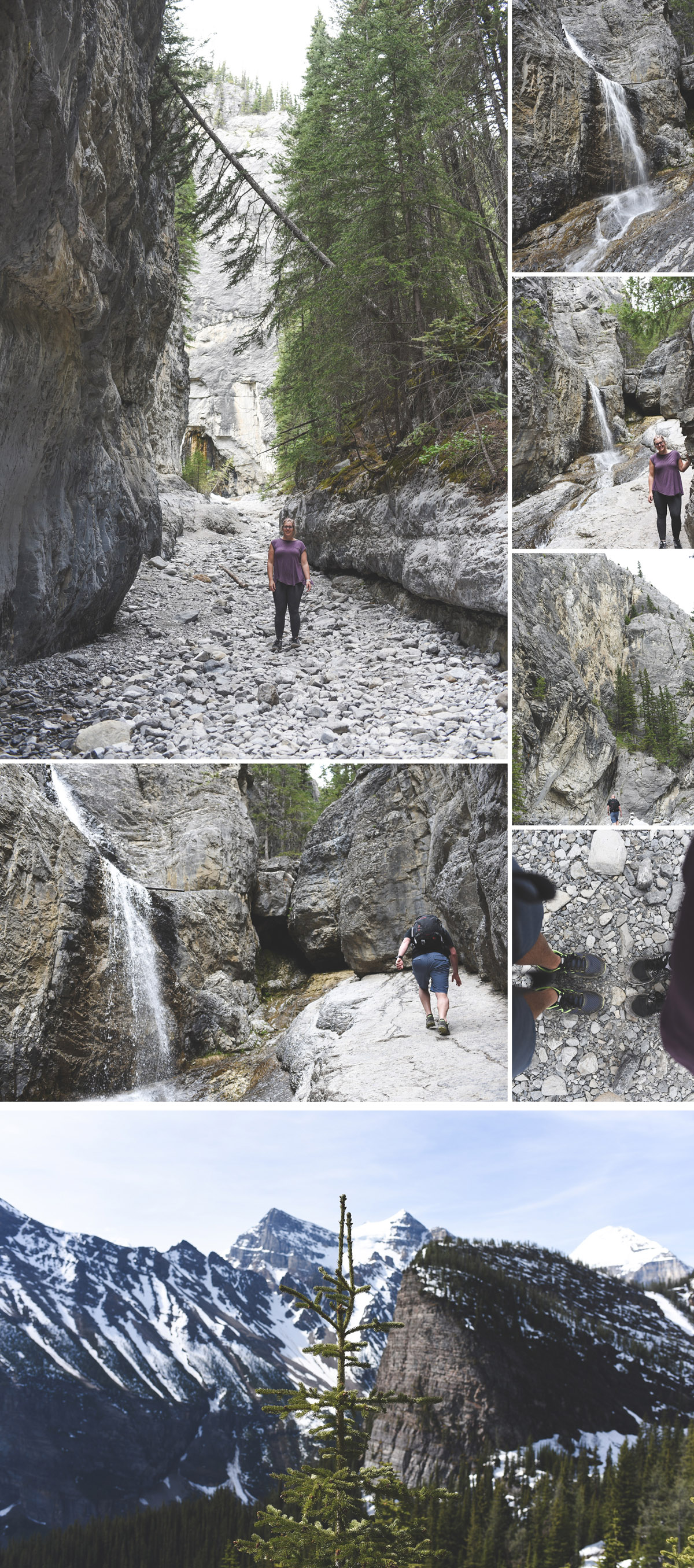 Ha Ling. "Our Mountain" This bad boy is going to get a post all of his own. Something about how overcoming the obstacles in our life made this a pretty big deal. Post to come.
After our big hike we got Blizzards. I am officially a Salted Caramel Truffle Blizzard addict. I mean ice cream (frozen yogurt at home) in general is a weakness of mine…but this one, if you haven't had it…. I don't really want to recommend it because I am afraid I will make an addict out of you as well. But SO SO SO Good. And well deserved (I think!)
Then we grabbed some more chicken so I could make fajitas for supper. I love travelling with a kitchen! Mountain Fajitas were a hit and I, once again, passed out for two hours. Woke up long enough to make dinner, and then…. fell asleep again while trying to make our plan for the next day!
We had planned a day for Alex to go mountain biking and for me to go to the SPA. The spa is actually one of my very favorite things. I say things because things don't compare to memories and moments and experiences for me. But the spa ends up being a bit of both…. a spoiling me thing and an experience of relaxing and feeling pampered and special. When I was researching a spa in the Canmore/Banff area I found that there were two options, big resort spas with beautiful photos and hot tubs and lounge chairs, and smaller local businesses where you could get at least double the amount of services for the same price. Sometimes I opt for the crazy fancy spa, but I really wanted to have a calf massage (seriously hiking those mountains was killer on the calves) and my face and toes needed some love as well! I checked out Trip Advisor and then got in touch with Verde Day Spa in downtown Canmore to set up some appointments.
When I arrived at the downtown spa (they have another location at Sunshine Resort and operate two satellite locations as well) I walked in and was warmly greeted and offered water or tea. I sat down in the little waiting area and immediately noticed the natural hand sanitizer on the table in front of me. It was mint and tea tree, and smelled wonderful. Then I perused the wall of Eminence products. I had never seen or used the line before and I was opening up the lip balm and body cream and looked at Gail at the front desk and said "I could just eat these!" To which she replied "You actually could!" and continued to tell me about how the products are all so natural and organic that you could actually eat them if you wanted to (and may have admitted to trying a couple… but that they smell better than they taste!!!)
After 5 days of hiking my body was feeling the work so my half hour massage with Regan was more that wonderful. I only regretted not paying the extra to do an hour! Thankfully I was right when I hoped my pedicure would also include a little calf and foot massage, so my poor calfies got some love! She was able to quickly assess my needs and took no time getting to it (I understand when therapists have to take a while to make a treatment plan when they have a long term client they are setting up but that's not usually what people need when they're on vacation! The end of the massage included my head/neck being wrapped in a warm towel and being gently pulled up/back and I am telling you it was GENIUS! The little touches make such a big difference to me, rather than just washing your hands of it and loudly being told "we're done" (yes its' happened) taking a moment to do something that gently signals the service is coming to an end is awesome! Oh and little touches!! The wool (and possibly also memory foam??) massage table cover and memory foam pillow for under the feet and knees!!! seriously!!! ahhhhhhhh!!!
Philippa,  the Owner,  was the one who did my facial and pedicure and she took good care of me! She also was able to answer all the questions that I had about the products.
I stayed on the comfy bed (ok it's a massage table but feels like a bed!!) and Phillipa and came in and massaged my face and facialed it up! Everything continued to feel and smell amazing! One of the masques in the facial and pedicure foot masque (Instead of something like paraffin) used things like Arctic Berries to eat up the dead cells…. very interesting how these natural products can do things that we have also created with chemicals. I was so relaxed that I don't remember how many steps of treatment the facial had but my skin felt amazing. I have left facials totally relaxed before (I love having my face touched….is that weird?) but my skin being irritated and blotchy. That was not the case at Verde.
When I left I wanted to take multiple Canmore selfies because my skin looked and felt amazing but I had a very obvious case of "spa hair" (if you've had it…you know what I mean!)
My pedicure was also great, I enjoyed how much knowledge Philippa had about the products and though I didn't retain it all, I know that she believes in it enough to have it be the only line that she uses in the spa for all of the services they offer (except Nail Polish because apparently organic polish just does not last long! So next best thing is a Collagen Free Polish like Artistic Colour Gloss). She also looks way younger than she is (and she is not old!) and says the Eminence products are all she uses. That was enough to sell me!
Honestly if budget wasn't an issue right now I know would have invested in an entire "system" of Eminence Products. I did purchase the coconut firming body cream. It smells and feels so amazing I just couldn't resist! and because there is no water added to the products you actually put them on with wet hands or wet skin, which is pretty cool. I also wanted to get the tinted mineral sunscreen powder they used at the end of my facial but they didn't have any left in my color, but we are going to set that up!
It was SUCH A WONDERFUL DAY for me, and I wasn't worn out from hiking but was so relaxing that I STILL ended up having a nap. We had supper in and watched as the clouds came over the mountains to create an AMAZING lightning storm! One of the most amazing I had ever seen, especially watching it roll over the mountains!
Ok I think this post is going to be way too long if I keep going! There are a couple of other hikes and meals I want to post about but I'll share later!