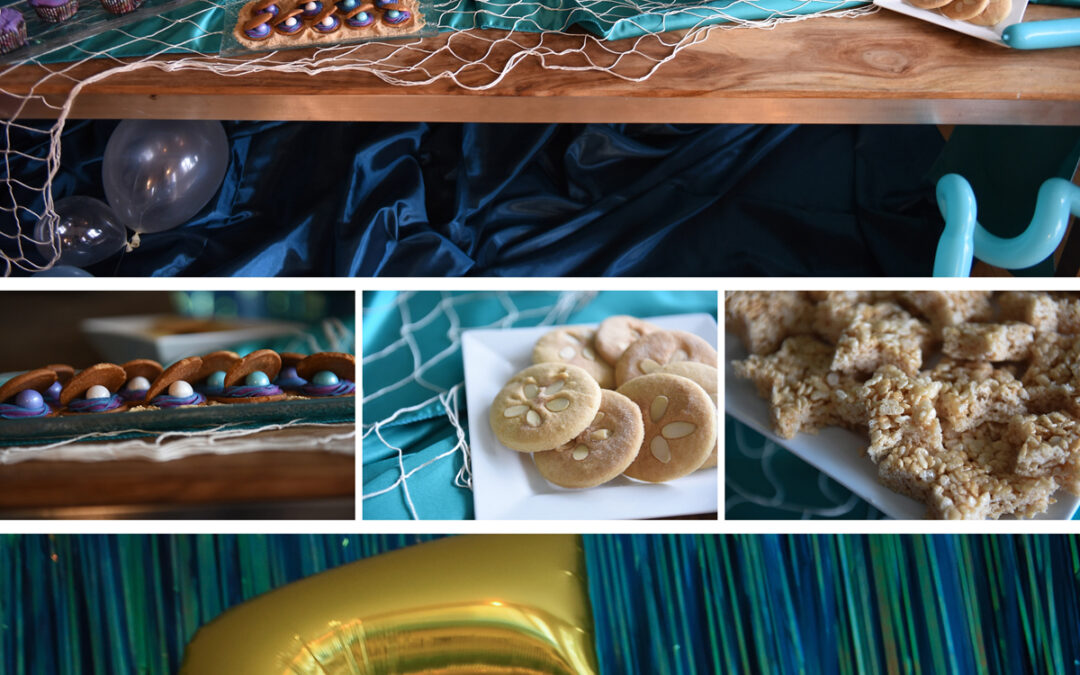 Addy's "Mermaid Theme" Birthday

When it comes to birthdays I often go a little overboard. And when it comes to balloons, the same thing happens. So with balloons and birthdays….it ends up being a LOT of birthday and a LOT of balloons. This birthday though, was by far the most balloons. Addy's third birthday when we did a balloon drop had a lot as well….but we blew those all up the old fashioned way. This time we got an AIR balloon blower from GLOW, which was an upgrade from even the hand pump I had purchased a few months ago! Basically I am balloon obsessed. Alex says that there is a rubber tree crying somewhere…even though I am not sure where latex comes from, I may have to check that out once I have internet again!
ANYWAY let's get to how the whole thing came to be. Addy LOVES the water. She's a fish (just like her mama, brother and Aunt Sally!) and I loved some water themed birthday pins that I had found on Pinterest. So it was done. I did the facebook invite for Addy's party and mentioned it would be mermaid themed. I was wrong. In the end other than that mermaids theoretically live in the ocean, there was nothing really mermaid related…. but it was fun!
I worked with GLOW the Event Store to create a focal feature for the party. Once again I opted for a dessert table; they are my favorite to do, and they offer so many options for display and colour!
I TRIED to make an ombre ruffle mermaid cake (ah yes, this was the mermaid detail I added last minute by painting a tail and sticking it into the cake!) At the suggestion of my friend Jenn at Layers, I got a turntable for the cake and a ruffle piping tip. I watched three or four tutorials on you tube and went to work. But well, apparently watching a video doesn't make you a pro. I kind of got the hang of it but by the time I did, the icing in the bag was too warm and got all droopy. SO I just smoothed the ombre all the way around. I still think it was pretty cute, though the icing got REALLY dark overnight. Is that normal with the Wilton icings? Anywhooo no one would have probably ever known that this wasn't the cake I intended, but I'm all about being honest, and letting you know that not everything goes perfectly in planning these parties, but I am getting a bit better at letting it go and going with the flow.
Oh and I also forgot to put icing between the layers of the cake!

When I was pinning ideas for the party (you can see what I pinned here) I kept coming across this balloon tunnel, and I just had to figure out how to do it, or something like it. The balloon artists at the Event Store were able to give lots of guidance and direction on what type of balloons, how I could connect them, how what I saw was likely put together etc. If I had given them the right measurements it would have been pretty much perfect the first night, but since I made a boo boo I had to get another fifty or so balloons the next morning. (NOTE: doing this the night before the party was a great idea, but the dollar store masking tape did NOT do the trick, so when we woke up the next morning ALL the balloons were on the floor! EEEK!!!! Dollarama is fun for a lot of things, but I do not recommend their tape!)
I needed to go to the Event Store to pick up the helium balloons (aren't the balloon octopuses amazing!!!) so grabbing another bunch of balloons wasn't a problem!

I also picked up a few more props to fill the treasure chest, and Finn was very excited to have a new sword out of the deal!) We rounded out the treasure chest with toy pearls, some curtains to look like sand and a scarf to look like seaweed, candle holders, costume jewelry and favours including the little candy fishbowls and gold chocolate coins.

I tried to do all themed food and drinks with fun seaworthy names, like carrot crabs legs and grapes on a stick as seaweed. Bulk barn was a great spot to get themed candies and the mix to make our ocean punch. I froze Sweedish Fish into ice cubes so they would float and made some little labels to match the theme.
I made hot dog octopuses which were a huge hit. I cut them all the night before and then boiled them at the party so they were fresh (does having a fresh hot dog really matter?) and papa made some amazing mac and cheese but with shell pasta. Not a spoonful was left!

My biggest #fail was the attempt at creating a giant jellyfish out of iridescent beads/fabric and an umbrella. I actually injured myself twice and it still didn't look great! I thought that it would bring the theme into the living room, and though it was understood to be a jellyfish by many, it certainly did't have the wow factor I had hoped for. If I hadn't decided to make a balloon tunnel then I would have worked on it some more, but I had to let that one slide as well! (you win some you lose some right!!!??)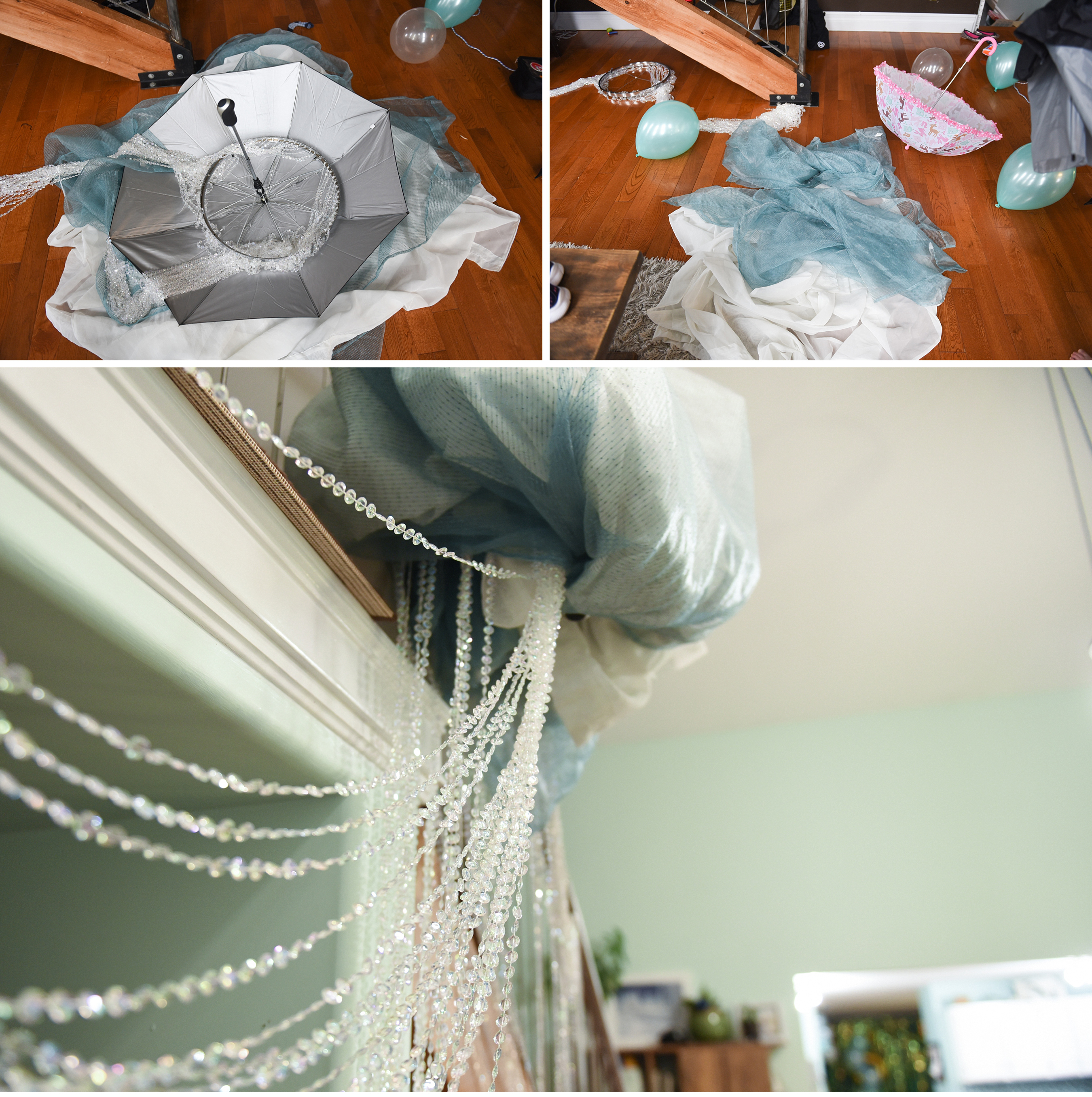 The blue fabric and iridescent backdrop was simple to put up and had a huge impact, and the pop of the gold balloon was a huge win! It was Addy's favorite, partially because it was pretty but mostly I think because she was SO excited to be turning five!
(though I did almost have an anxiety attack the other day because I couldn't flatten pizza dough. I do not say that lightly, I have been battling anxiety the last few years and for real, panic set in on this…)
The dessert table was completed with cupcakes decorated as turtles and simple "sand" and icing. Little oyster shells with pearl candies, sand dollar cookies (I think these were my favorite)
I don't know where she gets it, but my Addy girl loves to play hostess. It was her birthday but she wanted to pass out plates to everyone,  made sure everyone got some supper, made sure every grown up got to come to her room and see everyone play in the balloon pile after the balloon wall was demolished. She wanted to put her own candles on the cake and then pass cake out to everyone who wanted it before she had any cake of her own!
I want to say its just because she is so darn sweet, but I know that she also loves to be in control!

And what is a party without the people? We are so happy that so many people we love could come out to celebrate with us!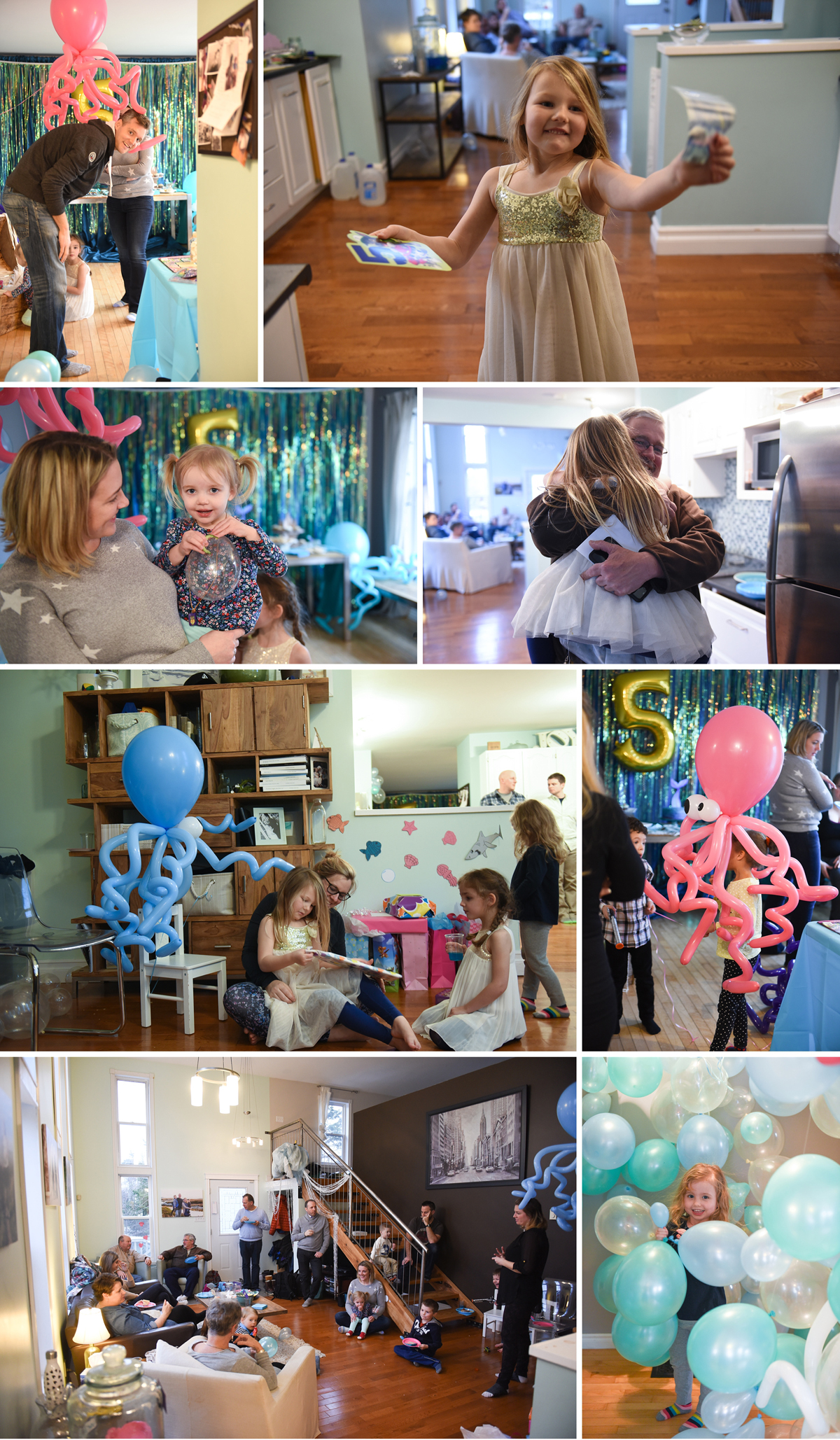 Thank you to Glow the Party Store for helping out with the tunnel balloons, octopus balloon characters, giant "5" gold helium balloon, draping iridescent gems, treasure chest, pipe and drape, blue curtain backdrop and iridescent overlay, blue tablecloth runners and netting, treasure chest, sword and pirate "shooter" (so far we don't use the word gun in our house!) and matching plates, napkins and cups (they have a huge array of colours!!!)
Michaels : seafoam glass cake plate
Papa: awesome shells and cheese
Dollarama : White square plates, "fishbowl" favour jars
Bulk Barn : theme coloured candies
Pinterest : Inspiration