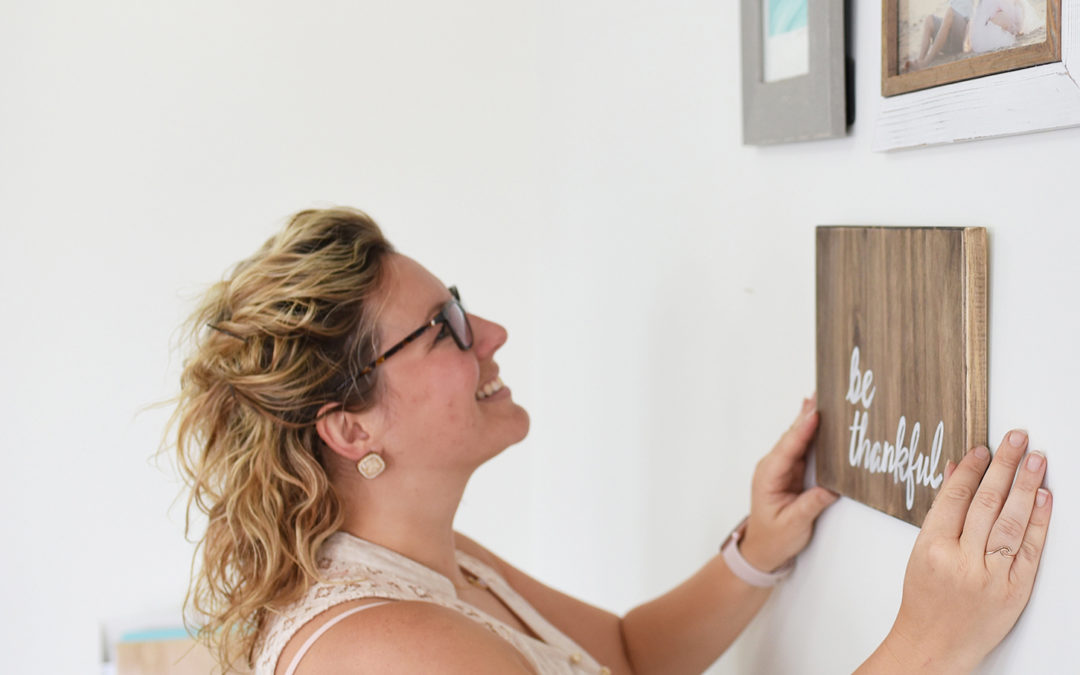 A wall gallery can be so much fun. You can use it to showcase images, mementos, quotes and a variety of other things. Personally I love mixing colors, textures, shapes and media types in my galleries but some people like to keep it really simple and go with all the same frame and black and white images or use symmetrical lines and consistent colors. You can find a lot of "rules" to follow when it comes to gallery walls, but to be honest when it comes to mine, I pick what I like, and I put it on the wall.
I am going to show you my simple way to set up a gallery wall and get it onto the wall in less than an hour. I had a little help from a friend for mine so that we could tape things up and so I could get some pictures of me in action, but really this could be done solo pretty easily!
Here's what you need:
A large roll of paper (Kraft, white, the backside of wrapping paper….I love using what you've got!)
Painters Tape (you can use masking tape as well, just be careful not to pull paint off the wall)
Pencil
Picture Hanging Kit
Measuring tape
Photo corner bumpers
Take your roll of paper and measure out how large of a space you would like to cover with your gallery wall…plus at least a few inches on either side. I am not big on being super specific, I want it to be fun so I eyeballed this one because I had a pretty big space to use, but if you want it centered above something, or in a small space I would measure a bit more precisely. Tape together pieces of Kraft paper if you need a bigger canvas to work with, and then secure it to the floor with a couple of pieces of tape.
Start placing your gallery pieces on the paper how you think they will work together. Move them around, try different spaces. If you need some inspiration we have pinned a few that we liked. I don't need my galleries to be symmetrical but I have helped clients who did, and that's definitely doable as well.
I see a lot of people pinning how to do a gallery wall the right way with individual pieces of Kraft paper. I haven't tried that method, but so far this one has worked for me so I am going to stick with it.
Back to it…. place your gallery images on the Kraft paper and see what you like. Step back and look at different angles and try a few things before you settle on what you want. If symmetry is important to you or if you are going to lose sleep over having one image 3 inches apart and others 4 inches, then measure your spacing while you have them on the paper.
Next, trace the edges of your gallery pieces with a pencil, as true and accurate to size as possible.
Then one by one remove an image from the paper, flip it over and measure to the point where the image will be hung. If it is a single hook measure to the middle of the hook from the side, and the top of the hook from the top. Then measure this same distance and mark it with a small "X" on your paper. Repeat for all other gallery images.
Once you have done this to each image, you can un-tape your paper from the floor and take it to the wall where you will be putting your gallery and simply tape it in position. You'll want to measure the middle of the paper and make sure it lines up with the middle of the gallery area on your wall, and make sure that the paper is level with the ceiling (in doing this multiple times I have learned that many ceilings are actually not perfectly straight at the meeting of the wall, but do your best)
Carefully nail your hanging pieces into the "x"'s on your paper. A single nail or a hanging doo-hickey (yup, that's the right word…I'm sure of it :)) and then carefully pull the paper off the wall.
Hang your images on their nails or doo-hickeys.
Make 'em straight and keep them that way by attaching little photo bumpers to the bottom corners of your images!
VOILA! Pretty wall gallery for you! (or super macho wall gallery if that's what you're going for!)