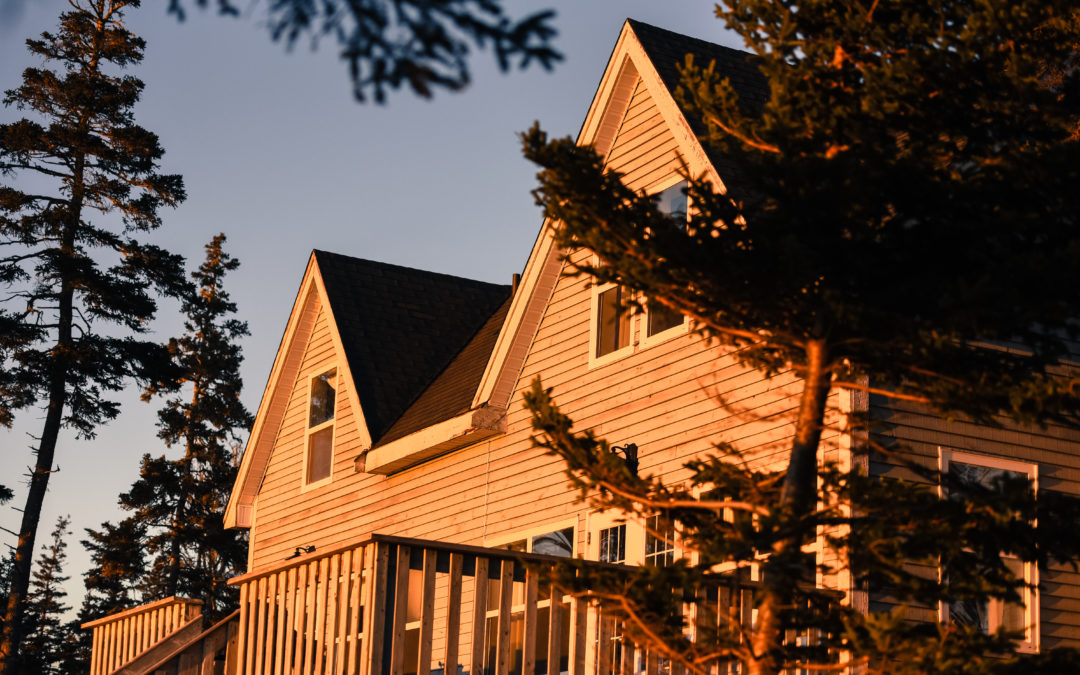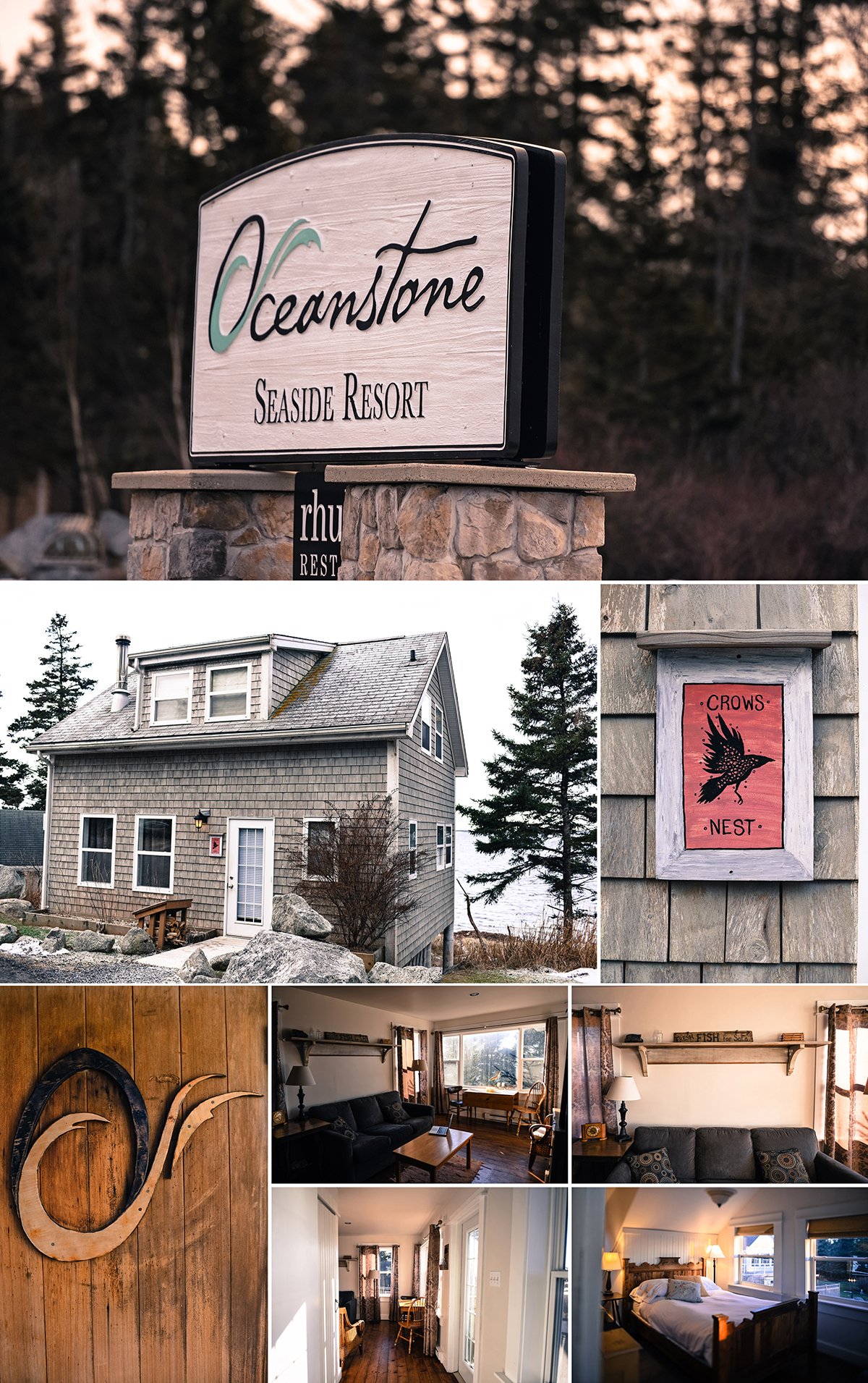 Thirty six hours since I left my amazing weekend at Oceanstone and I think I am still in ultra Zen mode. Actually I know that I am. Honestly, I am going to run you through the awesomeness that was this weekend, but in all the places we have EVER travelled, we can not recall EVER having been as relaxed as we were this weekend. I have always loved Oceanstone, from the first time I photographed a wedding there, and through the many that followed. I also held my first charity event there, my first photography workshop, and it's where we will be holding this year's Awesome Life Retreat. Alex and I are going to be apart for over a month and I will be with the kiddos all day everyday. We wanted to rock a winter Staycation locally and to me there was no better choice than Oceanstone Seaside Resort.
The team on site really makes you able to relax and unwind by taking care of everything. We knew we wanted to enjoy some meals at Rhubarb, but we also wanted to stay in our sweats all day and eat in our cottage. Chef Steve stocked our fridge with "Chili and some fixings" and it was a complete feast!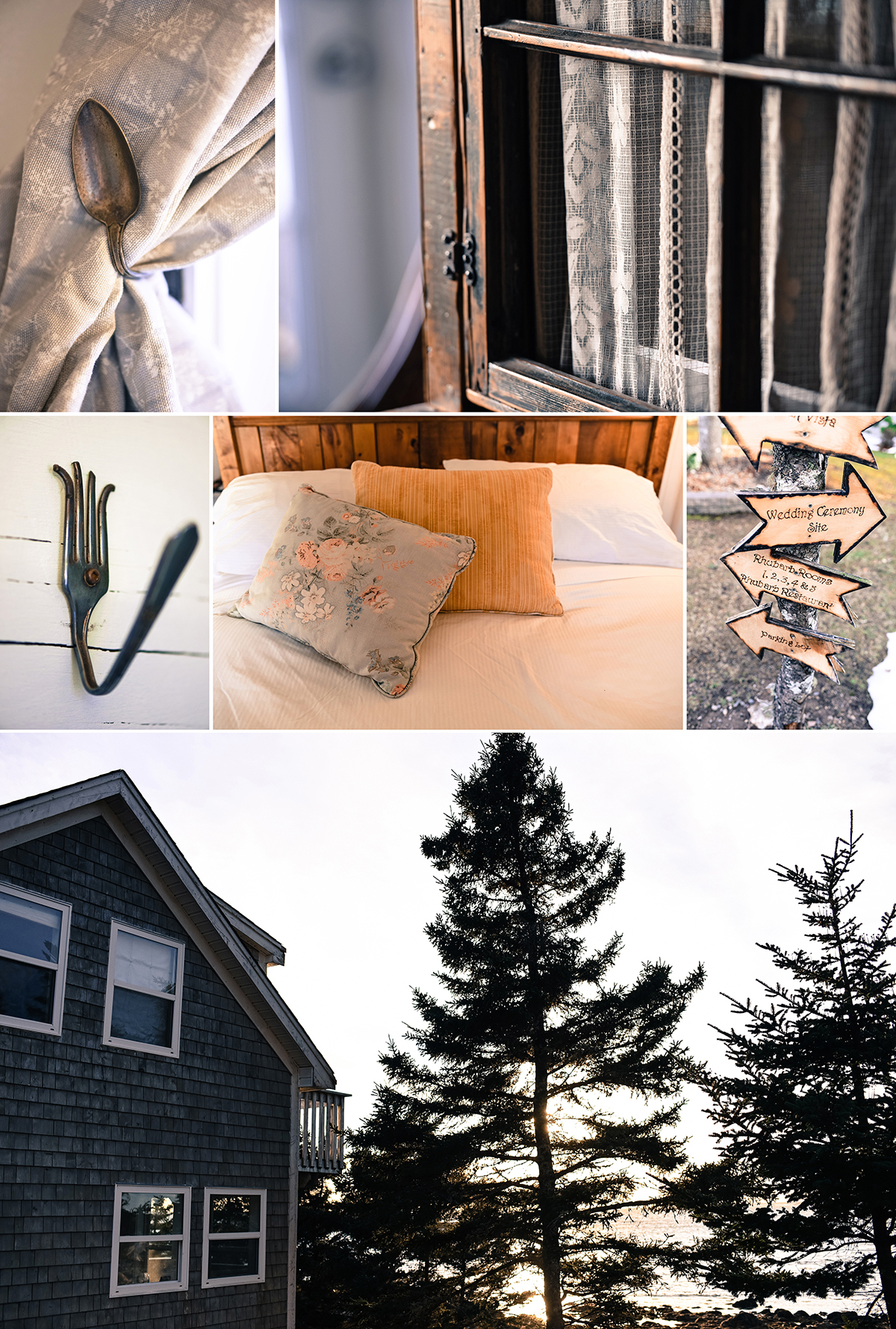 When we arrived on Friday night we came into the lobby and were greeted by the smell of warm cider, a crackling fire and friendly faces. We got checked in quickly and found our way to our cottage. Ok, it wasn't that difficult for me to find, being as I have photographed people getting ready for their weddings in almost every Cottage on site… BUT almost all of the cottages are directly overlooking the water, so finding your totally awesome spot is not hard to do!
Our little cottage was stocked up with some treats (You can arrange to have things left in your room! They now carry some great local craft beers (ok I am ASSUMING that they carry them because they are great, we all know I don't drink beers!) and their Chef often puts together special packages (for example you can pre order chocolate covered strawberries or a creatively curated stay in snack basket for Valentines day!) I haven't tested their limits, but I am pretty sure that you could make any reasonable request and they could probably make it happen! I couldn't have been happier that I had a mixed box of LURE Caramel Co. chocolates waiting for me. I had already fallen in love with their Chocolate Covered Sea Salt Caramels but when I tried "Wunderful" well that's just, well, ah-ma-zing. I think I would have purchased another box just of those if they had had any left up at Rhubarb (so it's probably better for my waistline that they didn't!)
Most cottages are fully equipped with kitchens, so you can also bring your own stuff with you. We totally brought our favorite ice cream and stuck it in the freezer. Now it held no candle to the homemade CREAM CHEESE ice cream that was served with our dessert at Rhubarb, but we enjoyed it on our night in.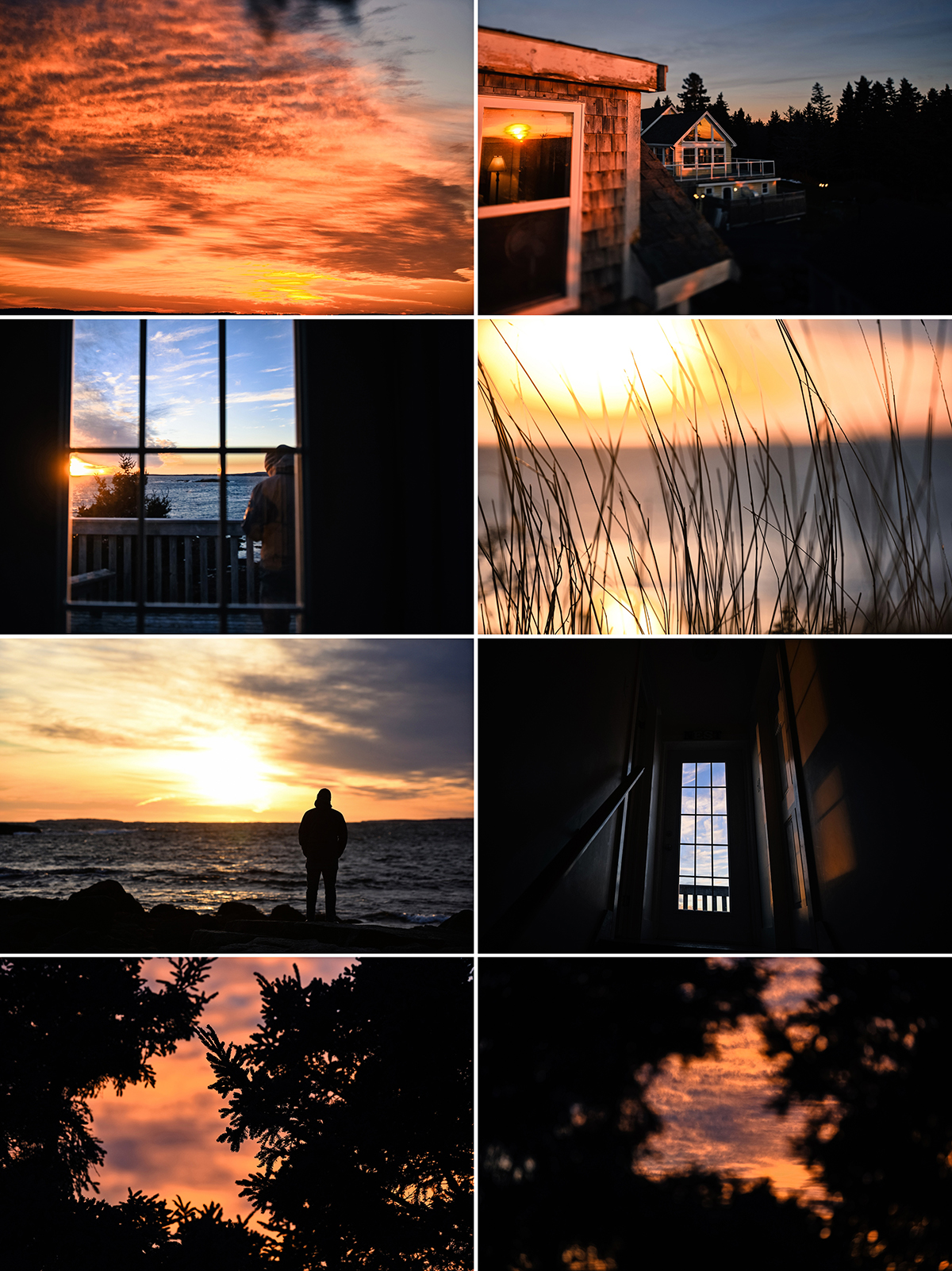 Oh gosh, I'm not even to dinner on Friday night! Ok let's get to it. We arrived just before sunset so we unloaded our stuff and went down by the water to see the sunset. Well that was the intention. But there were something like 90km an hour winds, and I didn't have socks on with my flats, so we grabbed some pictures and headed back inside. We found the beautiful deck upstairs and I kept sneaking outside to grab some shots as the sun went down and the sky turned all kinds of vibrant hues of orange and pink. It was STUNNING. I can totally picture sitting out there with a drink and a book pretty much anytime other than right now! We chilled and chatted and headed up to Rhubarb for dinner.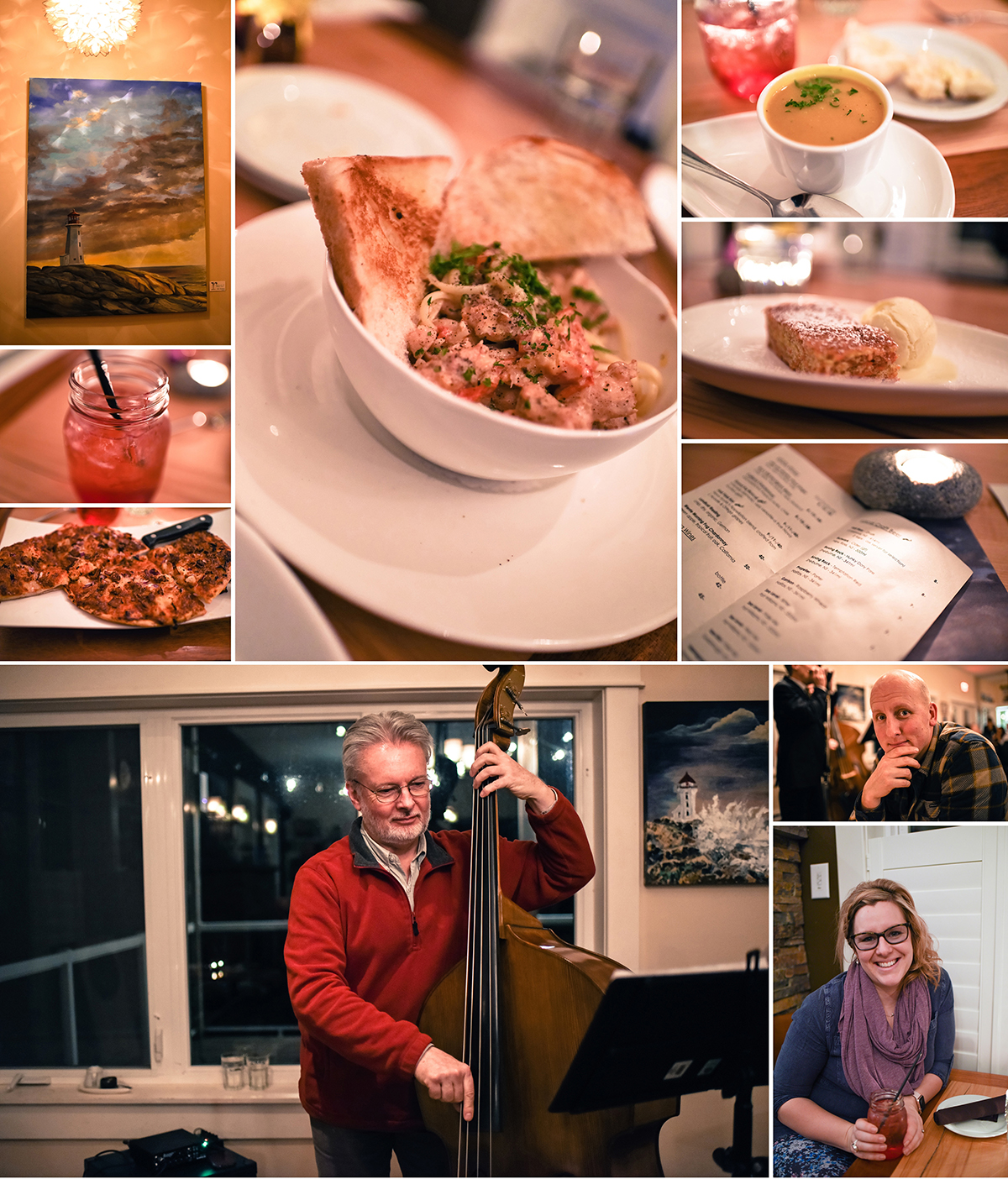 Rhubarb was already pretty full when we got there just before seven and the musicians were getting set up to play music. We were right next to the stage area and we were a bit concerned that it might be too loud, but it wasn't! Andrew Gillis played the harmonica and sang and Mike Lee played the stand up bass. The tone of the music was wonderful, the fire was warm next to us and the food was full of flavour, our server was fabulous so all in all it was a win win win! It was busy, but we were never without water. Honestly it doesn't sound like a huge thing, but we drink a lot of water (I say as I finish my third tall glass of water since I started this post!) and it just means that she was present, she didn't hover or intrude, but made sure we had everything we needed, and kept us up to date on what was happening. We decided to both start with the soup of the day which was a maple squash. It was a perfect blend of sweet and savoury. I have made a few carrot soups and squash soups, but this blend was rich and light. Alex said had he known how good it was he would have just ordered a large bowl and another biscuit, but I am glad that he didn't know because we got to share two meals. This is now a rarity for us. Much like Joey on friends Alex's usual mantra is "Alex doesn't share food". When he was trying to woo me when we were dating we would share meals often, only once we were married I learned that it was something he despised doing, he likes to know that the food set before him is his, and his alone! BUT we both we enticed by the homemade pizza dough made with Canada Dry Ginger Ale (the only ginger ale worth drinking IMO) and the chef's specialty pasta of the evening was a Chicken Alfredo with fresh tossed Tomatoes. We hadn't had a real alfredo style pasta out in AGES so we decided to share both. Yay!
We didn't want to leave because the music was fabulous, and it was so cozy. I am not often enticed by desert when I'm already full. I am usually a "I'll come back JUST for dessert another time" type gal (and I do!) but their pastry chef Kate (who also makes the LURE chocolates!) makes all of the desserts and when one of the owners, Diane, told me about the Beet & Carrot Cake with the homemade Cream Cheese ICE CREAM, well we just HAD to try it. Alex and I had carrot cake for our wedding 10 years ago, so it holds a special place in our hearts… and this most certainly did not disappoint. Now, I hate the word, but this cake was moist! Yet light, and there was no icing on it, so you ate the cream cheese ice cream with it, and it disappeared before the end of the song!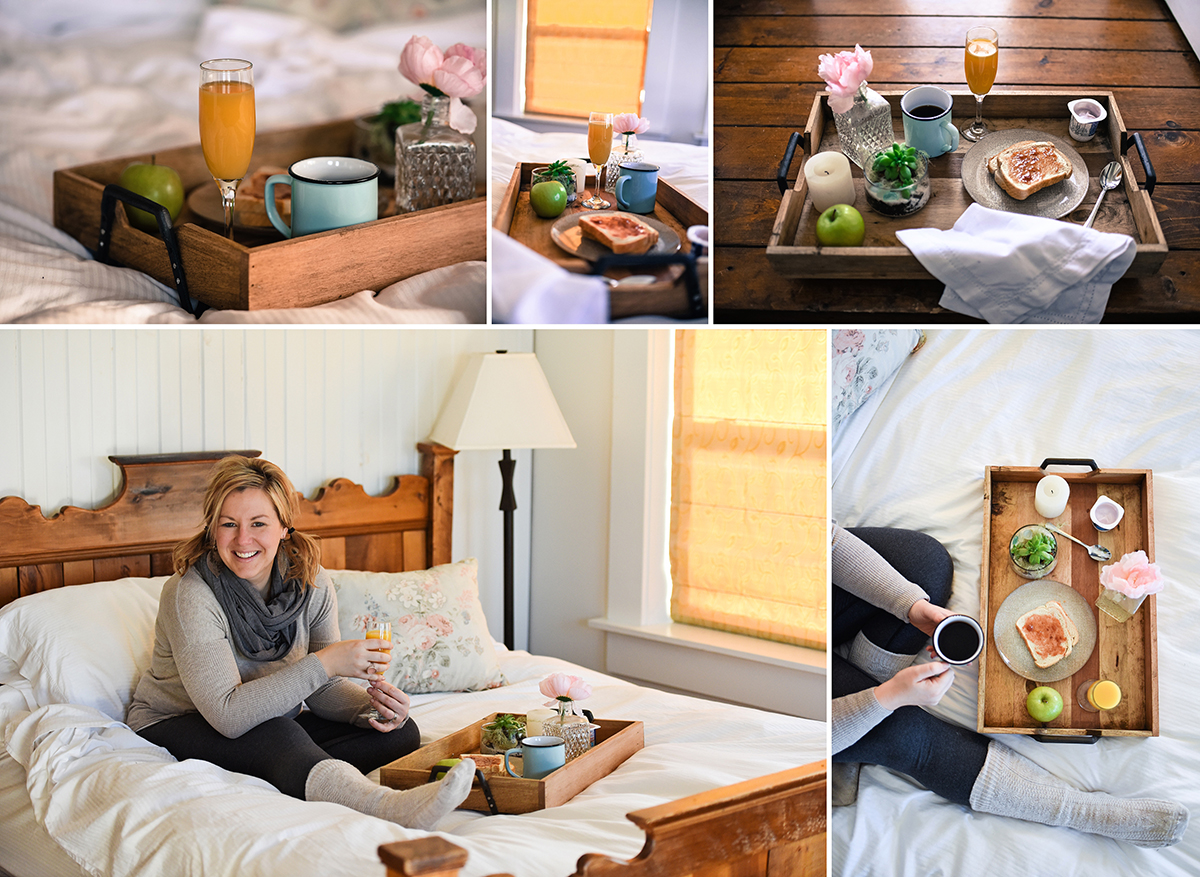 We drove back to our cottage, (Yes I felt lazy but it was stinkin COLD out!) Alex got a fire on, the heat filled the room and drifted wonderfully up the stairs making the bedroom extra cozy! We chatted while sitting by the fire (actually we were motivated to look at houses, because this cozy little cottage made us firmly believe we could LIVE in a smaller home, so we started re-exploring that option). Our full bellies and the warm fire made going to sleep early a non negotiable for us, and honestly when we woke up the next morning I thought we could be in a resort in the south. It was still warm and toasty in our room, and the sun was shining in the windows. The room was light and bright and with some reclaimed wood features, it just felt so homey. We slept until almost 8am, and started a fire again before heading over to the lobby to grab some items from the continental breakfast. They have some tables set up if you want to eat in the main building but I wanted to have breakfast in bed (because I have only ever done it twice before and it seemed like the perfect opportunity) so we brought our breakfast back to the cottage. Alex boiled a couple of eggs that we had brought because he needs to start his day with some protein, and before I knew it it was 11:30 in the morning. The wind had died down some so Alex convinced me to dress all cozy warm and go outside. Oceanstone had a left a little sheet with some local walks and hikes for us so we checked it out. We had done Polly's Cove before and I didn't know if I wanted to commit to that long of a hike by the water so we decided to explore the Whaleback trails. "Informal trails" is how they were described and that was definitely a good note to have, some of them were pretty difficult to follow. We only walked about a kilometer but it took us an hour and a half because I kept wanting to stop and take pictures (or hide from the wind behind the rocks) and Alex wanted to keep breaking the ice. Not going to lie, I definitely got in on that action! After our adventure we grabbed a quick burger at the finer diner, then headed back to the our little Crow's Nest cottage.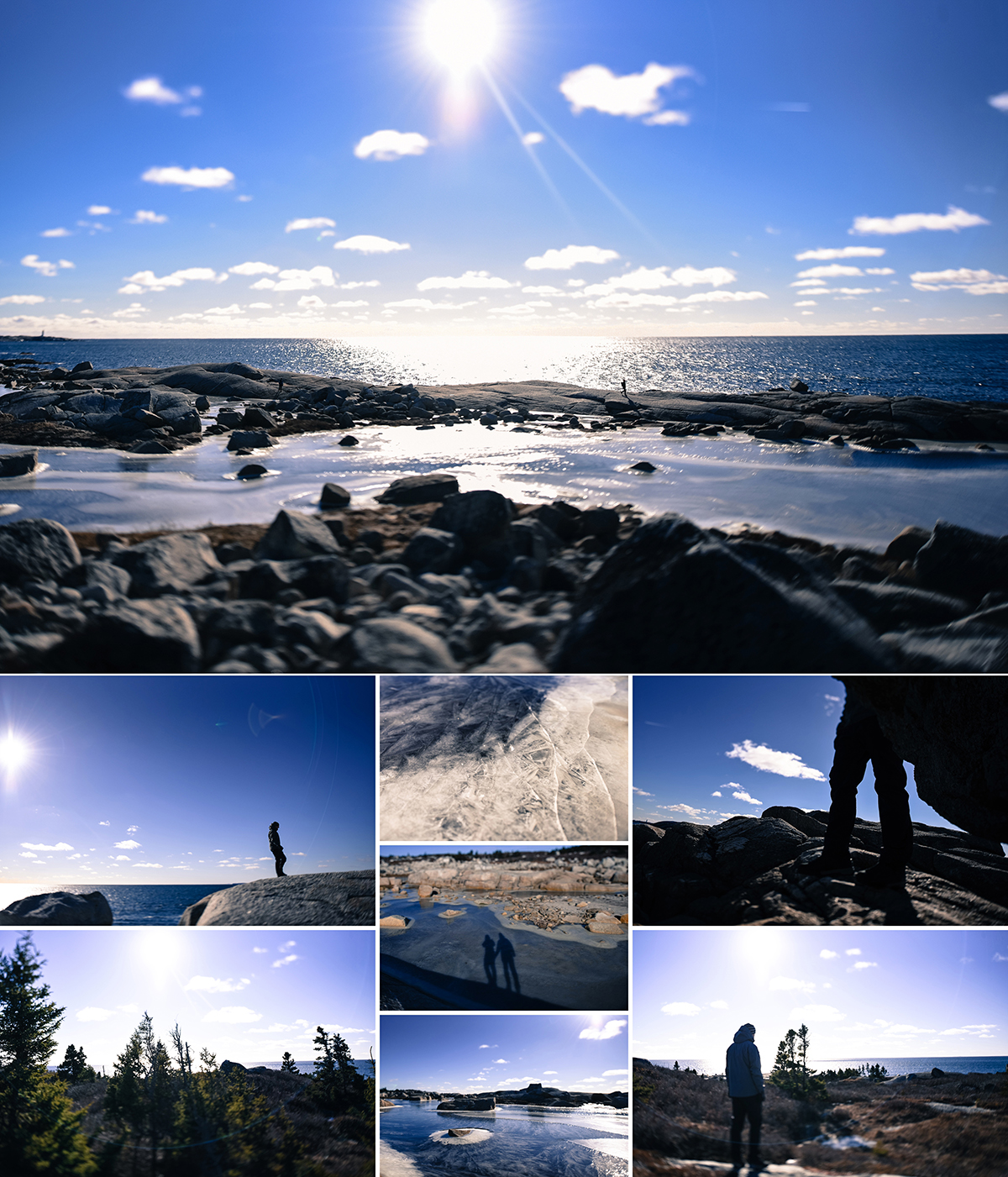 The fire embers were still glowing so we fired that back up again. I left the bathroom door open to warm it up and had a bath, it was so QUIET! Since we COULD, we had a nap at about 4pm. Such an odd time for nap but we really couldn't help ourselves. I woke up just in time to snap a few sunset shots again, and then we got prepped for supper. It was pretty tough…we had to put the chili pot on the stove and then take the fixins out of the fridge. Honestly I need to explore some of the local options for meals that you can take and cook at home (Rhubarb was actually doing this with Chicken Pot Pie on Sunday, but Alex doesn't like it, so it was a no go on that one!) Because it was FABULOUS. We got to stay in, be cozy, and lazy but have an amazing meal! It's amazing what "fixins" can do to a relatively simple meal! Totally motivated to do a chili bar for friends sometime soon!
We watched some of the most recent Jim Gaffigan special on my laptop, I laughed until I cried but then I saw alex dozing off next to me. He went up to bed and I spent a few hours working on my website (I hope you like the changes, it's still a work in progres, don't worry…I know!) and then I stoked the fire and went up to bed. We may have gone a little overboard on the fire because it was HOT up there, but I didn't mind!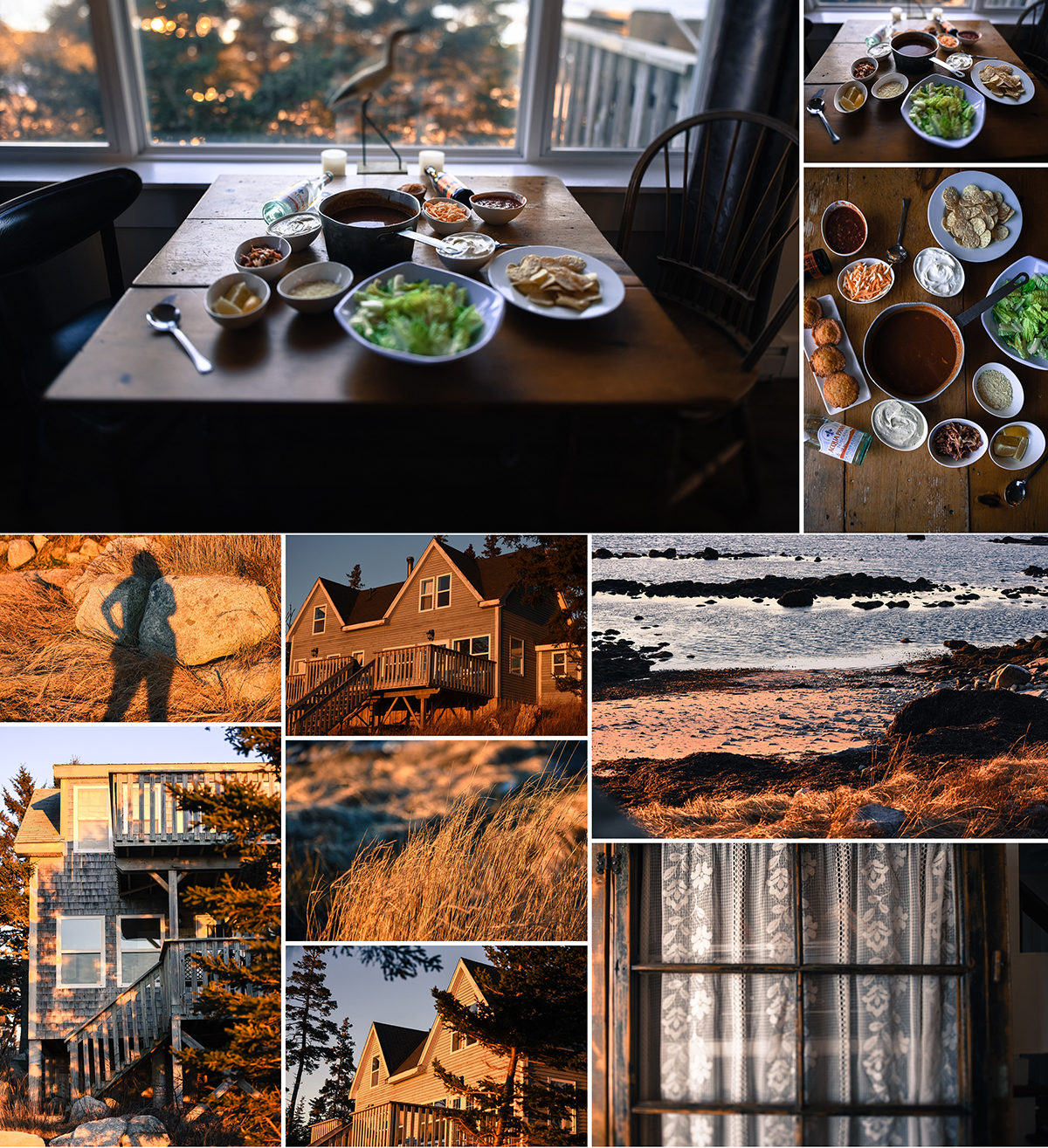 Sunday morning I grabbed some photos around, and then we went up to Rhubarb for brunch. We were the first ones there (I had actually gone in before they were officially open to grab some shots) but it filled up pretty quickly! Definitely worth making a reservation if you're going to be going around eleven or twelve. Apparently Alex and I were carbo loading because he got pancakes and I got french toast, both came with bacon (for the win!) and I mine also came with roasted potatoes. I didn't used to like breakfast foods at all, my poor dad and the creative ways he tried to make breakfast interesting for me! But a lot of it came down to texture, so I am always a little leary of french toast, because when it's not cooked properly it just ends up being a soggy mushy mess….but this was PERFECT. It was one THICK slice of homemade bread, I'm talking a few inches thick! So the egg mixture was cooked on the outside and the fresh bread was perfect on the inside. Served with a blueberry compote and creme fraiche and a side of maple syrup, with a light dusting of cinnamon somewhere….it was lovely. Having the savory bacon and potatoes with it was a great mix. I love variety so this meal choice meant Alex didn't have to share with me (although I did steal some of his maple butter to try! TASTY) Neither of us really drink coffee, but I did see some pretty good looking lattes going out. I also had a glass of OJ, I forgot to ask if it was fresh squeezed, but if it wasn't, it certainly tasted like it was! They offered dessert, and honestly I was so tempted to have more Beet Carrot Cake, but my breakfast had been pretty much dessert, so I couldn't justify it!
We went back to our cottage and packed up so we could pick up our kiddos from our very generous parents who had watched them for the weekend.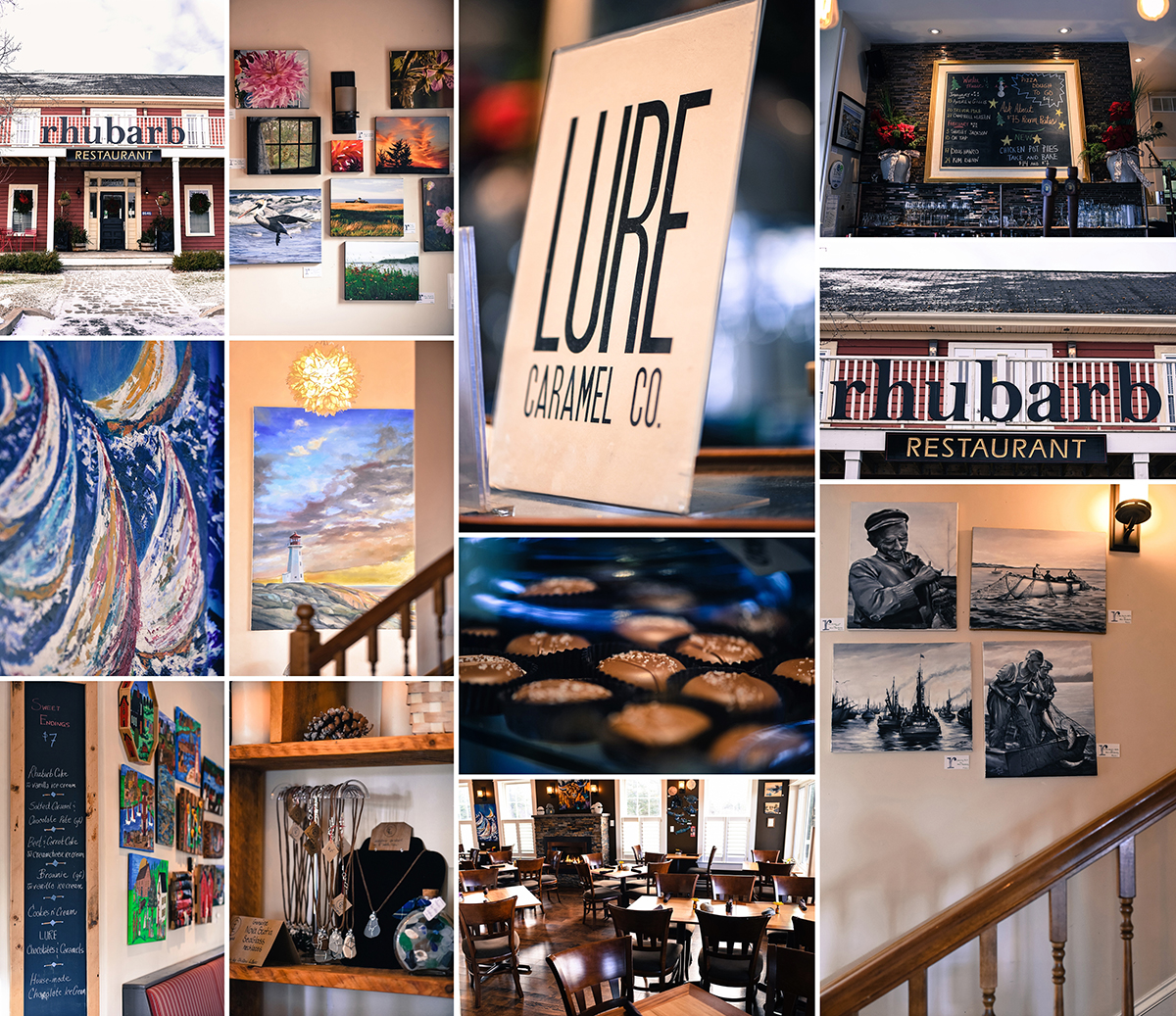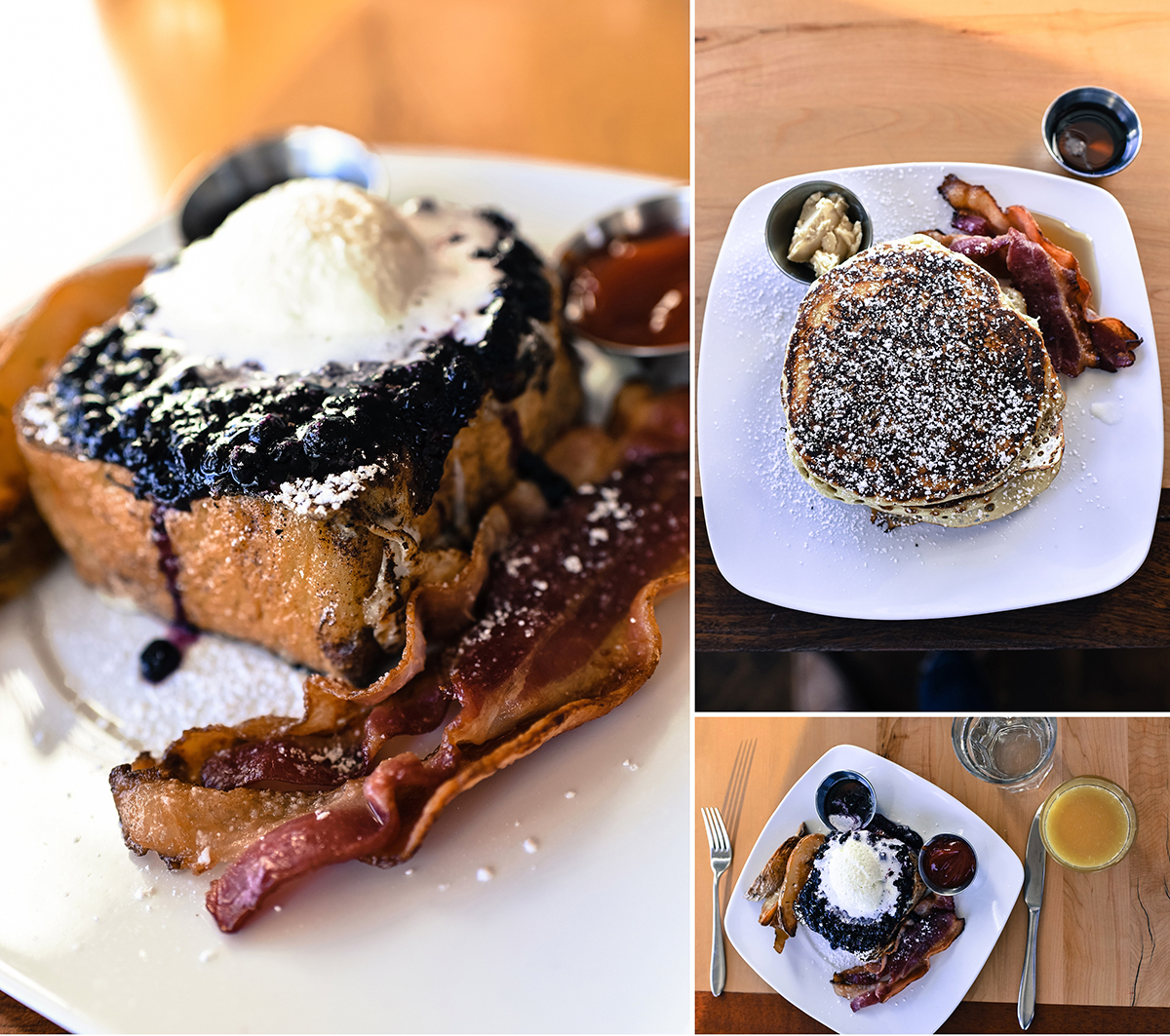 We loved everything about the weekend, but what I have to say was the best part was the feeling like we didn't NEED to do anything, that it was OK to just relax. In the winter this is much easier for me, and I think that we really needed it. The atmosphere made it possible for us to really relax, which lead to lots of authentic and much needed conversation about what we want for our family and for our year. I know that may sound crazy, but our lives are a bit helter skelter, and though we are being much more intentional about time together, it's often at the end of a day when we are tired, and we have to deal with real life logistics (Like you know, you need to pick up the kids from daycare, and don't freak out when you get home and the TV is gone, I took it for my workshop) So often the big stuff just doesn't get covered.

So although the food was AMAZING and the fire was cozy and comforting, the real gift to us was the ATMOSPHERE that was created by the entire weekend that gave us this relaxing time together.  
Oceanstone & Rhubarb (and of course LURE Caramel Co.) we can't wait to be back! Counting down the days until the Awesome Life Retreat (May 7-9)
Give yourself or someone you love the gift of going to Oceanstone, or rock it with the gift of going to Oceanstone AND our retreat (a win win win! Food & accommodations included!) You seriously will NOT regret it!
This post was partially sponsored by Oceanstone and Rhubarb. As always all opinions are mine and are honestly how I feel! I love this place! All images are Copyright This is Photography 2017 Please do not use without permission.